SSE 3572.37
FTSE 100 7234.04
Dow Jones 35294.77
KASE 3 646,15
Brent 84.86
WTI 82.28
Золото 24 600.87
PTC 1 891.56
USD 425.78
RUB 5.98
EUR 494.08
CNY 66.23
Kazakhstan President Kassym-Jomart Tokayev receives Iranian Foreign Minister Mohammad Javad Zarif
8 April 2021, 00:43

169137
Welcoming the Iranian diplomat in Nur-Sultan, the President noted the friendly nature of relations between the two countries, Delovoy Kazakhstan reports.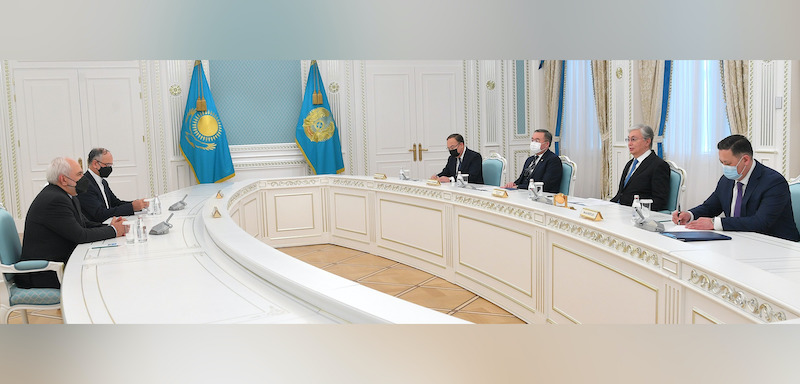 "Iran is one of the key partners of Kazakhstan in the Middle East. We have had an excellent relationship in bad and good times. The international weather did not exercise any influence on our mutual cooperation. We appreciate this fact. Using this opportunity, I would like to convey my best regards to President Rouhani," Kassym-Jomart Tokayev said.
In turn, Mohammad Javad Zarif expressed gratitude to the Head of State for the hospitality, stressing that he is honored to be back to Nur-Sultan again.
The Minister conveyed greetings from President Hassan Rouhani and congratulations on the occasion of the Nauryz holiday. He also renewed Hassan Rouhani's invitation to President Tokayev to pay an visit to Iran at his earliest convenience.
"We do in fact attach great importance to our relations with Kazakhstan. We witness you as one of our closest neighbors and friends in the region," Mohammad Javad Zarif noted.
During the meeting, President Tokayev and Minister Zarif discussed bilateral cooperation and exchanged views on pressing issues of the regional and global agenda.
2006 - 2021 © Your mail. 16+