SSE 3613.97
FTSE 100 6863.80
Dow Jones 34584.89
KASE 3 389,83
Brent 74.61
WTI 71.12
Золото 24 149.14
PTC 1 711.62
USD 425.3
RUB 5.85
EUR 501.05
CNY 65.88
Branch of KazNU will open in Bishkek
12 July 2021, 13:11

2554
The delegation of KazNU named after Al-Farabi, headed by the Chairman of the Board-Rector Zh.K. Tuimebayev paid a working visit to the Kyrgyz Republic, Delovoy Kazakhstan reports.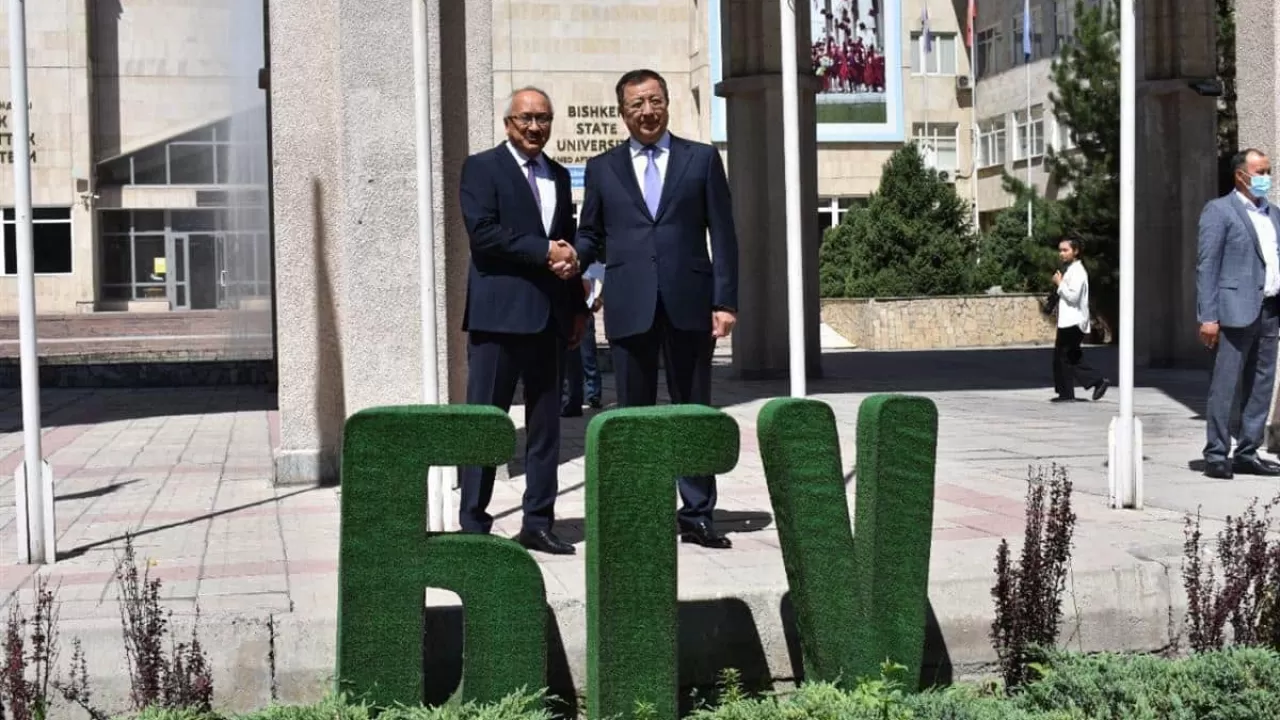 During the visit, at the governmental level, the head of the country's leading university met with the Deputy Chairman of the Cabinet of Ministers of the Kyrgyz Republic Zh. Bakashova, the Minister of Education and Science of the Kyrgyz Republic B. Kupeshev with the support of the Ambassador Extraordinary and Plenipotentiary of the Republic of Kazakhstan to the Kyrgyz Republic Rapil Zhoshybayev. The parties discussed issues of cooperation in the field of higher education and research activities between the two countries.
In order to further develop and strengthen cooperation in the field of education and science, the parties agreed to intensify cooperation between Al-Farabi KazNU and universities of the Kyrgyz Republic, to initiate the participation of the teaching staff of higher educational institutions and researchers in conferences, symposia, seminars, round tables, which are held in two countries. And also to involve teachers of Al-Farabi KazNU and higher educational institutions of the Kyrgyz Republic to conduct classes in universities of both countries within the framework of academic mobility and exchange educational materials.
It should be noted that following the results of the 9th meeting of the Kazakh-Kyrgyz Intergovernmental Council, it was decided to develop a project for the branch of Al-Farabi KazNU in the Kyrgyz Republic.
During the working visit, the meeting of the rector of KazNU Zh.Tuimebayev with acting Mayor of Bishkek Baktybek Kudaibergenov. The parties discussed the issues of opening a branch of the Al-Farabi Kazakh National University in Bishkek. The head of KazNU spoke about the activities and achievements of the university and informed that the educational institution was included in the Top 200 universities in the world.
In turn, Baktybek Kudaibergenov noted the importance of this project for the capital, which will open up new opportunities for student youth.
At the end of the visit, the delegation of KazNU named after Al-Farabi visited the Kyrgyz-Kazakh cultural center named after Abay, founded as part of the anniversary celebration of the 175th anniversary of the great Kazakh poet and thinker.
2006 - 2021 © Your mail. 16+