Ambassador Timur Urazaev visited Klaipeda, a port city, the western sea gate of Lithuania, with a working purpose. It is the main and ice-free port on the eastern coast of the Baltic Sea. At a meeting with Klaipeda Mayor Arvydas Vaitkus, he discussed issues of Kazakh-Lithuanian interregional cooperation. Congratulating him on his election as mayor, he noted the importance of the city as the largest transport and logistics hub in Lithuania, which for many years has remained a point of delivery and transit of Kazakhstan's export goods to Europe, DKNews.kz reports.
Mayor A.Vaitkus is well acquainted with Kazakhstan and has repeatedly visited it, including Astana, the Khorgos MPCS, and other infrastructure facilities.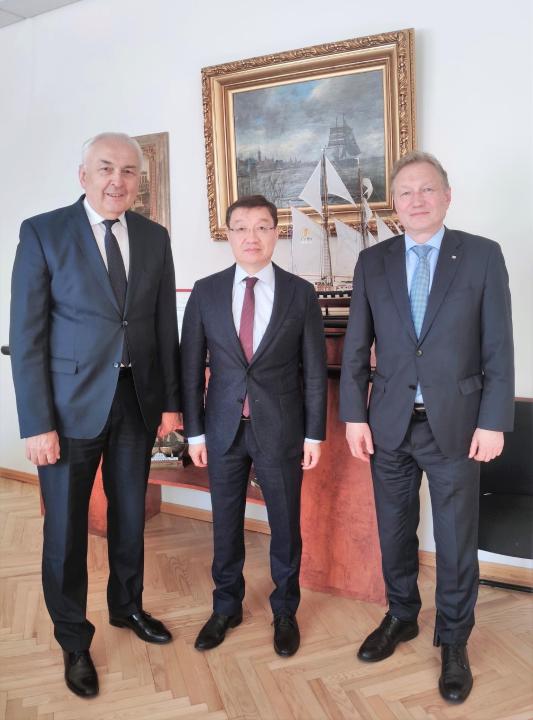 Various issues of cooperation were discussed, including the possibility of establishing sister-city relations between Aktau and Klaipeda, and the exchange of experience in the management and development of the infrastructure of port cities.
There was also a meeting with the Rector of Klaipeda University Arturas Razbadauskas. Ambassador noted as a priority prospect of opening branches of large foreign universities in Kazakhstan, taking into account the planned merger of universities in European port cities, including Klaipeda University. It was emphasized that quality education in Lithuania is always in demand with us, many Kazakhstani undergraduates do practice and internships in Lithuania, especially in medical specialties (rector Razbadauskas is also a physician).
The rector spoke about the conditions for studying foreign students, including those from Kazakhstan, as well as academic ties with our country.
Honorary Consul of Kazakhstan Benediktas Petrauskas participated in the trip and meetings.
Klaipeda is the third largest and oldest city in Lithuania (founded in 1252), which has one of the largest seaports in the world. The main industries are chemicals, food, woodworking and furniture, shipbuilding and ship repair. An important place in the city's economy is occupied by the service sector (port and logistics, tourism, and many other services).