More than 20 full-time and engaged NAC assessors from Astana, Almaty, Karaganda and Uralsk will be trained for several days on ISO 22000:2018 standard «Management systems in the field of food safety. Requirements for organizations involved in the «food product chain» with the involvement of specialists from the Republic of Türkiye, DKNews.kz reports.
The seminar was organized by the National Accreditation Centre to improve the qualification and knowledge of appraisers on new accreditation schemes and current revised standards, to study the best foreign practices and to exchange experience.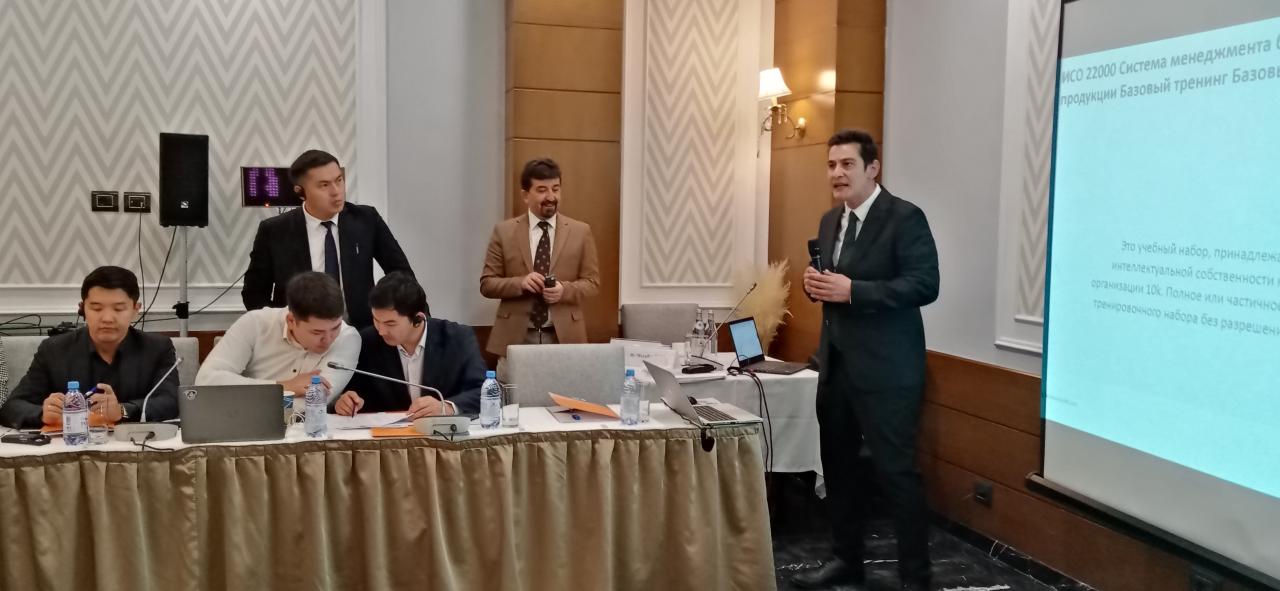 The participants were welcomed by Mr. Yerzhan Karasayev, Deputy Director General of NAC, who introduced the moderators: Mr. Korkut Yavuz, Director General of Türkiye Consulting Company and Dr. Muzaffer Özen, lecturer.
«Kazakhstan has great potential in the field of food exports, so NAC applies such standards as ISO 22000:2018 and its domestic counterpart ST RK ISO 22000:2019. In this regard, the experience of such a developed agricultural country and food exporter as Türkiye is of great interest to us. We have tried to create comfortable conditions for training, and I wish you productive work under the guidance of our experienced lecturers»

Yerzhan Karasayev
Both Türkiye representatives have many years of experience in certification, accreditation, standards development, teaching, have worked in different countries and international organizations, and have been involved in consulting for more than 13 years, while remaining practicing experts.
Speaking about food safety in the context of ISO 22000:2018 standard, Muzaffer Ozen stressed that it is about quality system management along the entire production chain - from soil, seed, fertilizer assessment to the production of finished products and their sale to the end consumer.
«In Türkiye, everything from the land in the fields to the finished product is subject to strict control at all stages. I first saw such a strict inspection system in Germany when I was still a young specialist, and I was very surprised. At the time, I thought it was impossible in Türkiye, but after a few years, it has become a global practice that is also available here in Kazakhstan»

Muzaffer Ozen
To date, 23 bodies on food safety management system have been accredited in Kazakhstan, and, according to the organizers' intention, the seminar will help to strengthen the knowledge of assessors in this area in order to care for the life and health of our citizens.