SSE 3613.97
FTSE 100 6863.56
Dow Jones 34584.89
KASE 3 374,21
Brent 74.32
WTI 70.78
Золото 24 149.14
PTC 1 708.07
USD 425.3
RUB 5.85
EUR 501.05
CNY 65.88
Corruption prevention and solutions
12 July 2021, 13:24

475
The Al-Farabi Kazakh National University hosted an online seminar "Preventing Corruption: Solutions", Delovoy Kazakhstan reports.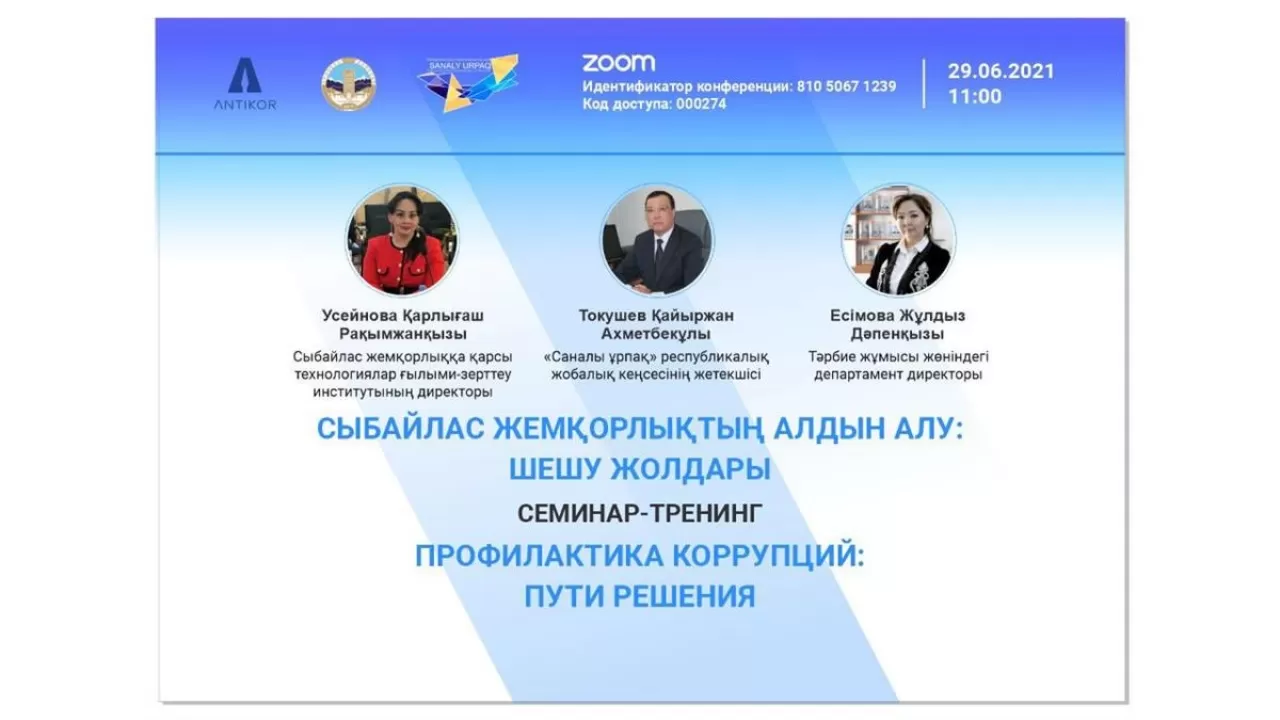 The seminar was attended by the head of the Republican project office "Sanaly Urpaq" Kairzhan Tokushev, director of the department for educational work of the university Zhuldyz Yesimova, director of the Research Institute "Anti-corruption technologies" Karlygash Useinova, faculty and representatives of the university. Zhuldyz Yesimova acted as a moderator of the seminar. During the seminar, K. Tokushev gave statistics on corruption in the field of education, the latest additions and changes to the Administrative Code of the Republic of Kazakhstan, and also explained the increase in personal responsibility for the inability to prevent corruption.
The speaker called for the implementation of the ISO 37001 standard and international standard aimed at full identification of risks, transparency in decision making, the use of a full arsenal of tools to prevent corruption, systematization of preventive work, active use of the Internet space, transparency and openness. He analyzed the work of the university on these issues and made specific recommendations.
The seminar participants agreed that it is necessary to create a platform for intolerance towards corruption. It was noted that the fight against corruption will be successful not only through the work of state institutions and laws, but also through the perception of every citizen as an intolerant social phenomenon. During the seminar, answers were given to the questions of the participants.
2006 - 2021 © Your mail. 16+