The Embassy of Kazakhstan in the United States together with the Arms Control Association and Rockefeller College of Public Affairs & Policy at the University of Albany co-hosted a webinar commemorating the 30thAnniversary of the Semipalatinsk Nuclear Test Site closure, Delovoy Kazakhstan reports.
Ambassador of Kazakhstan Yerzhan Ashikbayev underscored that owing to the will and determination of the «Nevada-Semipalatinsk» movement participants and bold decision of the First President Nursultan Nazarbayev the closure of the Semipalatinsk test site caused a chain reaction that led to a worldwide moratorium on nuclear tests. The Kazakh Ambassador emphasized that Kazakhstan will continue its efforts in strengthening the non-proliferation regime and achieving a nuclear weapon free world.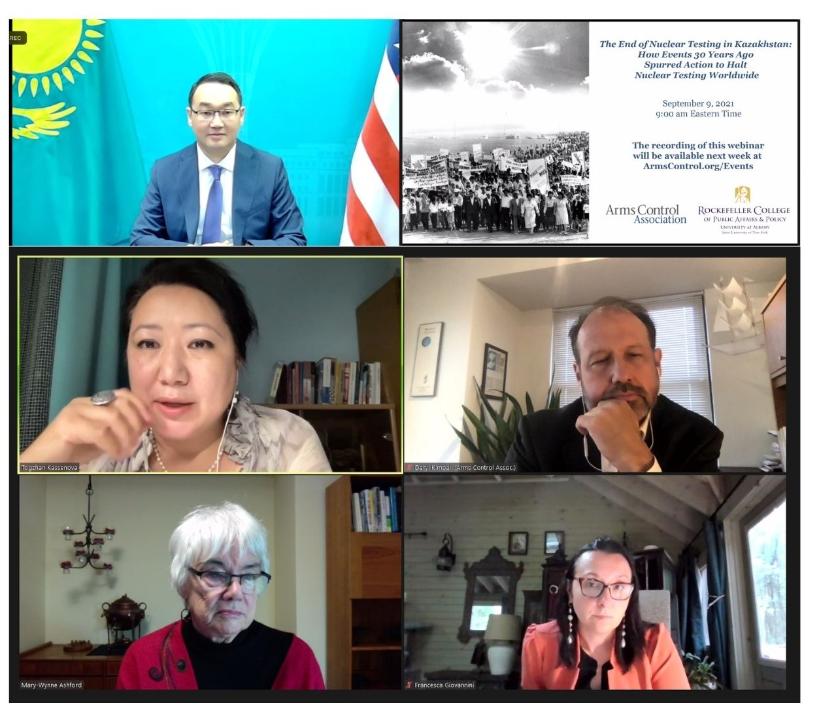 Senior fellow at the Center for Policy Research at the University at Albany Togzhan Kassenova, former President of International Physicians against Nuclear War Mary-Wynne Ashford, Executive Director of the Arms Control Association Daryl Kimball, Executive Director Managing the Atom project at the Belfer Center at Harvard University Francesca Giovannini also participated in the webinar.
The experts commended the contribution of the people and leadership of Kazakhstan in strengthening international security and expressed their hope that the global moratorium on nuclear tests will be observed.