We have already written about how the Kazakhstan national short track team is preparing for the 2022 Winter Olympics in Beijing.
Photo - ISU
Team leader Abzal Azhgaliev managed to share news from our team with the official website of the International Skating Union ISU, Delovoy Kazakhstan reports. Abzal Azhgaliev told the ISU website that he hopes to win a medal at the 2022 Olympics in Beijing. The 29-year-old short track master from Uralsk is one of the best 500-meter racers in the world. ISU notes that Abzal is currently ranked third in the overall ranking and is not without reason talking about claims for the Games in Beijing.
"I first need to qualify for the Olympics at the World Championships, but honestly, I can't wait for Beijing in 2022. Apart from individual competitions, we have a very good relay team. I trust every athlete, and together we can achieve excellent results. The main goal is to reach the final. My favorite distance, of course, is 500 meters, but there are many rivals in this race. I think that the strongest opponent at this distance is the Chinese Wu Dajing. He is an Olympic champion and very fast, "Azhgaliev admitted.
Abzal started skating at school when he was 9, and like most short track speed skaters, he became interested in the sport through the excitement of racing.
"I liked the speed, adrenaline, overtaking, I started doing this seriously in 2006, when I had my first international competition in Moscow," Abzal explained.
As in many other countries, short track speed skating is not as popular a sport as football, athletics, swimming or boxing. ISU notes that Azhgaliev, along with talented teammates like Yerkebulan Shamukhanov, are bringing their country to the world map.
"In Kazakhstan, short track is not very popular, but I do my best so that everyone knows about it, and more and more people know about it. We train in the capital of Kazakhstan, Nur-Sultan, and we have two new ice rinks that are comfortable and quick to use. There are eight men and six women in our team, and there are many children in our country who want to play sports and become Olympic and world champions. So the future looks good, "said the Kazakhstani.
Azhgaliev also benefits from close collaboration with short track leaders in neighboring Russia.
"We have guys from the Russian national team. Semyon Elistratov and Dmitry Migunov are with us now, and they are both excellent, strong guys. I loved Sochi because it seemed to me that I was performing at home, and Russian fans were rooting for us. In Pyeongchang 2018, I was the standard-bearer of Kazakhstan. I was very nervous before the opening ceremony because it is a great responsibility to the country. The whole world is looking at you, but I coped with the task. I was proud that such a responsibility was entrusted to me, "our compatriot concluded.
ISU notes that in February next year, all attention in Kazakhstan will be riveted, including on Azhgaliev. Having received a medal, he will become a national hero.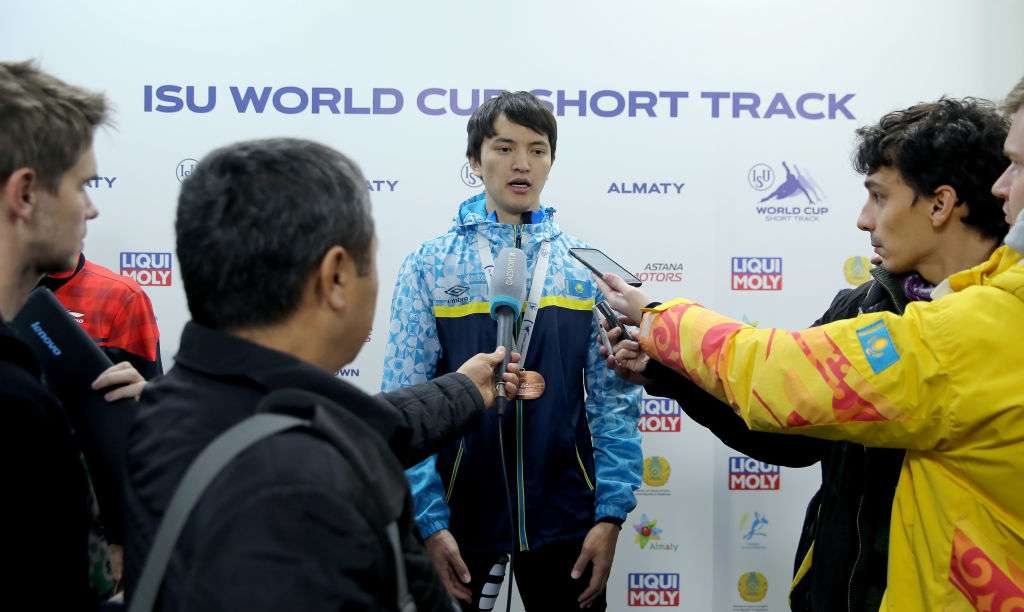 Finally, the heading "Minute of Glory". The author of these lines got into the frame and can also be seen in one of the photos. The photo was taken in December 2018, when the Short Track World Cup was held in Almaty at the Halyk Arena. At the home start, Abzal won a bronze medal, and here, together with his colleagues, your humble servant is interviewing our hero.
Prepared by Albert Akhmetov based on ISU materials