Vehicles carrying wind turbine blades made in China head toward wind farms in Kazakhstan. China and the Central Asian nation have launched renewable energy projects as part of the Belt and Road Initiative. [Photo/Xinhua]
Belt and Road Initiative produces series of benefits
On a stretch of land covering 25 hectares in the Sirdaryo region of Uzbekistan, thousands of workers from China, Uzbekistan and other Asian countries are braving scorching temperatures to build a thermal power plant.
Expected to be completed by the end of next year, the project will provide about 8 percent of Uzbekistan's installed power generation capacity, generating up to 10 billion kilowatt hours of electricity per year and meeting power demand for nearly 1 million residents.
Guo Tianyu, a project manager at the Central Asian branch of China Energy Co, the plant's builder, said, "This project is of milestone significance for the energy sector in Uzbekistan, and is another landmark project under the Belt and Road Initiative."
He added that the economic boom in Uzbekistan, including development of the construction sector, has triggered a surge in energy demand and further exacerbated a power shortage in the country.
Construction of the thermal power plant, which envisages the use of modern steam gas turbines, has created more than 1,000 job opportunities for local residents, Guo said.
The new plant is just one of the many cooperation projects launched between China and the Central Asian countries of Kazakhstan, Uzbekistan, Kyrgyzstan, Tajikistan and Turkmenistan as part of the BRI.
According to many observers, cooperation in the BRI between China and the five nations has produced early results, helping these countries improve their infrastructure, build trade links, and improve public well-being.
Zhao Huirong, a research fellow at the Chinese Academy of Social Sciences' Institute of Russian, Eastern European and Central Asian Studies, said: "The BRI has offered new opportunities for stability and growth in the Central Asian region. Through the initiative, the five countries have obtained new investment, technology and markets, and improved their level of infrastructure, especially transportation and logistics."
The BRI has promoted Central Asian countries' exports, balanced the growth of their industries, and offered opportunities for their industrial upgrading and the development of green and digital economies, she said.
The Silk Road Economic Belt, which led up to the BRI, was first proposed by President Xi Jinping during a visit to Kazakhstan in 2013, and the five Central Asian countries were among the first nations to take part in the initiative.
This year marks the 30th anniversary of the establishment of diplomatic relations between China and the five nations, with trade between the two sides rising from $460 million in 1992 to $50 billion last year.
According to the General Administration of Customs, in the first seven months of this year, trade between China and Kazakhstan rose by 19.3 percent. The corresponding figure for Kyrgyzstan was 150.4 percent, for Tajikistan 85.5 percent, for Turkmenistan 53.4 percent, while Uzbekistan saw a 32.5 percent rise in such trade.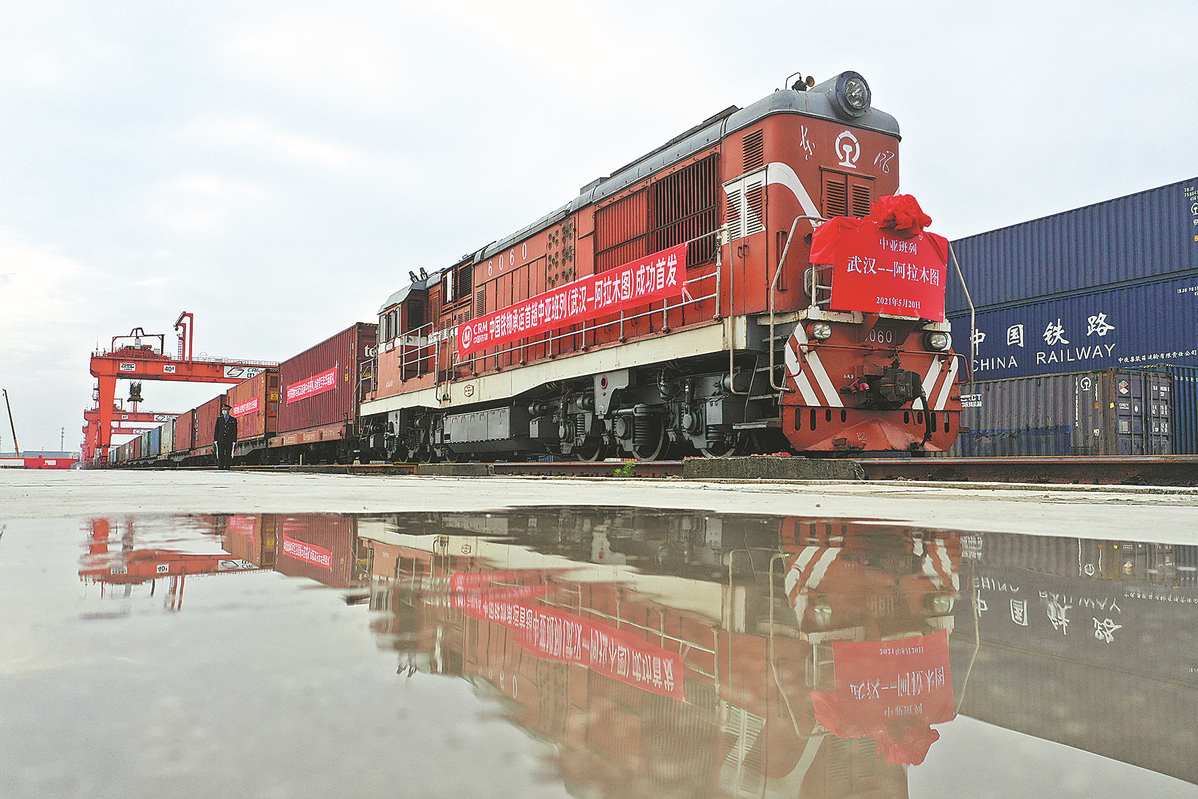 A China-Europe freight train prepares to leave Wuhan, Hubei province, for Kazakhstan. [Photo/Xinhua]
Political commitments
Heightened cooperation as part of the BRI was backed by a strong level of commitment from the two sides' top leaders.
During a virtual summit to celebrate the 30th anniversary of diplomatic ties in January, the two sides pledged to build an even closer China-Central Asia Community with a shared future to promote the countries' high-quality development and the region's prosperity and stability.
Xi said during the summit that the key to successful cooperation between China and the five countries is "mutual respect, good neighborliness, and friendship, solidarity and mutual benefit."
He stressed that no matter how the international landscape evolved or how far China developed, the nation would always remain "a good neighbor, a good partner, a good friend, and a good brother" that Central Asian countries could trust and rely on.
Xi also laid out a vision for trade between China and the five countries to rise to $70 billion by 2030, saying that Beijing stands ready to import more high-quality commodities from the five countries and to step up cooperation on energy and high-technology.
During a meeting with Xi on the sidelines of the Beijing Winter Olympics in February, the five nations' presidents voiced their readiness to continue enhancing cooperation with China as part of the BRI.
Zhao, the research fellow, said:
"Central Asia and China, connected by mountains and rivers, share their futures together. The region has been a major source of China's imports of energy and bulk commodities, a new destination for Chinese investment, and a market for Chinese commodities. The two sides have attained win-win cooperation through equal and pragmatic cooperation" Zhao Huirong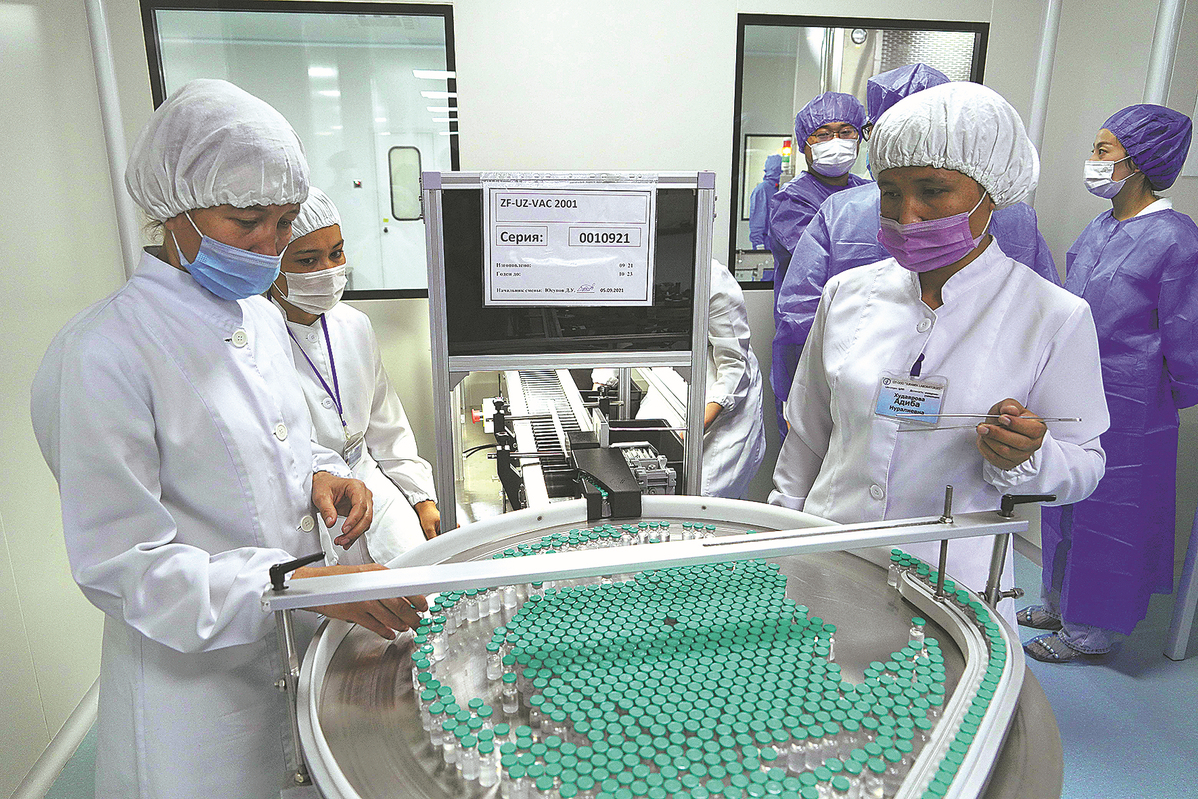 A pharmaceutical company in Uzbekistan produces Chinese COVID-19 vaccines. [Photo/Xinhua]
Tangible benefits
Central Asia, especially Kazakhstan, has served as a key gateway on the western route for China-Europe freight trains. As of July, more than 57,000 train journeys had been made via this transportation corridor-which was launched in 2011-with shipments of 5.3 million TEUs (twenty-foot equivalent units) of goods worth nearly $300 billion.
The launch of China-Europe freight trains shortened the time fivefold to transport goods between Kazakhstan and Europe, according to a report by the Chinese Academy of Social Sciences.
Sun Xiuwen, an associate professor at Lanzhou University's Institute of Central Asian Studies, said improving infrastructure connectivity has become a priority for China and Central Asian nations in their efforts to build a community with a shared future.
Despite the COVID-19 pandemic, the exponential rise in the number of trips made by China-Europe freight trains through Central Asia speaks volumes for the steady efforts made by the two sides in using their respective strengths, she said.
Sun added that China has taken part in a series of infrastructure construction projects in the five nations, including the China-Kyrgyzstan-Uzbekistan International Highway and the Vakhdat-Yovon railway in Tajikistan, helping the five countries strengthen their transportation capacity.
To help these nations alleviate power shortages, Chinese companies built power plants in Dushanbe, capital of Tajikistan, and Bishkek, capital of Kyrgyzstan, as well as a power transmission project spanning 410 km in Kyrgyzstan, she added.
Li Ziguo, director of the Department for European-Central Asian Studies at the China Institute of International Studies, wrote in a research note in March that China has become the largest or the second-largest trading partner of Central Asian countries and a major market for their commodities.
Improved infrastructure networks have made the region a key corridor for China's exports to Europe, he wrote.
"The Chinese economy and the economies of Central Asian countries have been further integrated in the process of jointly building the Belt and Road Initiative, which has accelerated the globalization of the five countries" Li Ziguo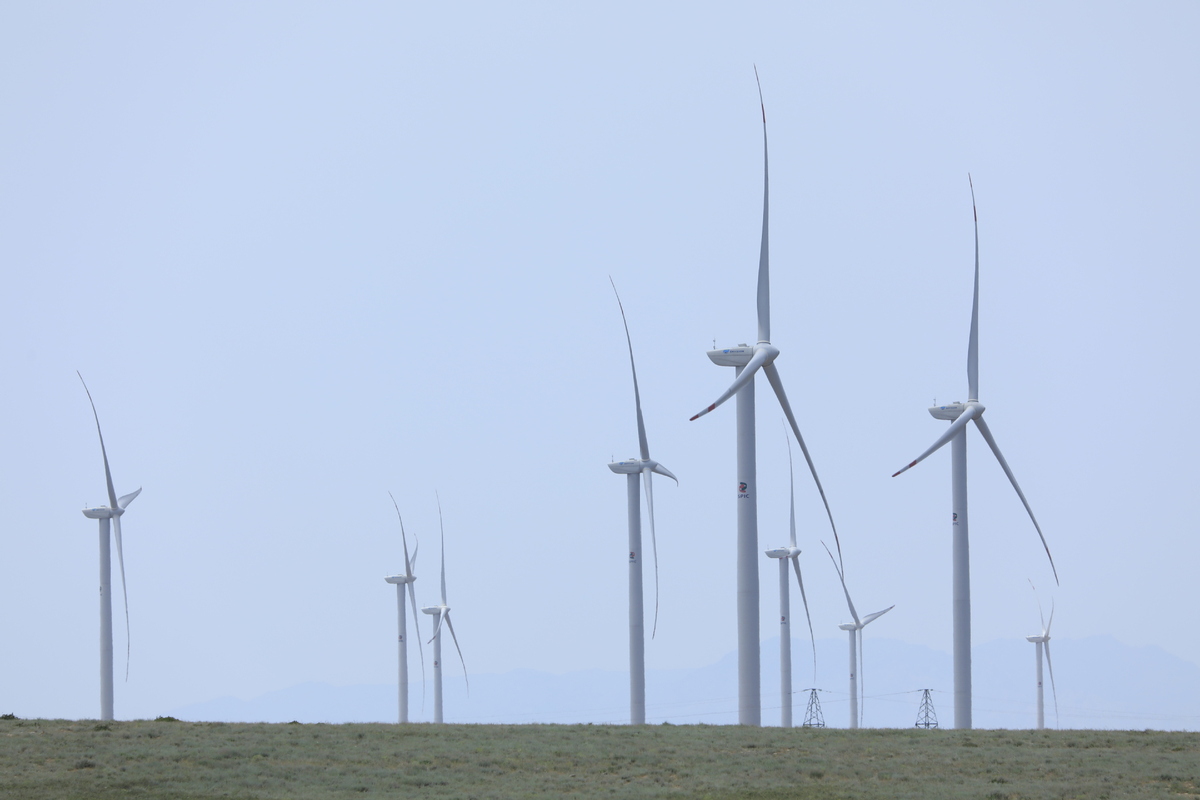 Wind turbines are seen at central Asia's largest wind farm built by a Chinese firm near the city of Zhanatas in the Zhambyl Region, Kazakhstan, May 24, 2021. [Photo/Xinhua]
Greater potential
During the summit in January, Xi said China would grant assistance of $500 million to Central Asian countries to support livelihood programs, and offer 5,000 places at seminars and workshops to help these countries train professionals in fields including health, poverty reduction, agricultural development and information technology.
Analysts and industry insiders have highlighted the significance of the China-Kyrgyzstan-Uzbekistan railway in further unleashing the potential for BRI cooperation between China and Central Asian nations.
Last month, China's National Development and Reform Commission said in a statement that a team of Chinese experts had arrived in Kyrgyzstan to conduct field work on the railway, marking the start of a feasibility study for the project.
In July, Kyrgyz President Sadyr Zhaparov said during a meeting with Chinese State Councilor and Foreign Minister Wang Yi that Kyrgyzstan regards the China-Kyrgyzstan-Uzbekistan railway as an important link in building the Belt and Road Initiative, and is eager to advance and accelerate this state-level cooperation project.
Wang told Zhaparov that the time is right to build the rail link, and that China is ready to work with Kyrgyzstan and Uzbekistan to speed up the feasibility study.
The rail line is expected to be 523 km long, including 213 km in China, 260 km in Kyrgyzstan and about 50 km in Uzbekistan.
Zhaparov said in a media interview in May that construction of the railway could start next year.
Zhao, from the Chinese Academy of Social Sciences, said this project was launched as the BRI yielded tangible benefits and entered a phase of high-quality development, which spoke highly for the high level of recognition among Central Asian countries for the results produced by the BRI.
"The railway's construction and operations will serve as a new driver for the transportation, trade and economic growth of relevant nations

-

further promoting development of the BRI" Zhao Huirong
Li Shengping, manager of a freight forwarder based in Urumqi, capital of Xinjiang Uygur autonomous region, said that when it is completed, the railway will further increase the efficiency of China-Europe freight train services and energize the economic growth of countries along the route.
He expects the railway to help transform Kyrgyzstan and Uzbekistan into regional logistics centers, as it will become the shortest rail route to move Chinese goods to Europe and the Middle East, possibly reducing the transportation time by seven to eight days.
Li added that China's booming economic links with Central Asia have seen the emergence of hundreds of freight forwarders in Xinjiang, which borders the region.
"With construction of the railway, I am confident in the broader prospects for the industry" Li Shengping
Dey Aleksander, an Uzbek national working as a senior marketing manager at the Central Asian branch of China Energy Co, said the BRI has produced quicker economic growth in Central Asia and promoted deeper bonds between people.
The initiative has also served as a key channel for boosting investment in the region and for raising standards of living, he said:
"The BRI has helped Central Asian countries to increase exchanges with other nations, especially as more people have started to get to know China and learn Chinese" Dey Aleksander
By XU WEI | China Daily