On October 7 and 8, the great legend of love "Kozy Korpesh - Bayan Sulu" staged by the famous choreographer Heorhii Kovtun to the music of the Kazakhstani composer Aktoty Raimkulova will be presented on the stage of the capital's Astana Ballet Theatre, Delovoy Kazakhstan reports.
The main highlight of the ballet will be a special creative method: a harmonious combination of a European orchestra and an ensemble of Kazakh traditional instruments performed by the folkloric and ethnographic ensemble "Turan" and the symphony orchestra of the Astana Ballet Theatre under the baton of chief conductor Arman Urazgaliyev.
The gem of the romantic epics of the Kazakh people, which formed the basis of the plot, adorns the treasury of national art, as well as has a special significance for Kazakhstani culture. It seems to have been created for the modern national ballet with its contrasts, the opposition of good and evil, love and hate, devotion and betrayal.
The ballet show is distinguished by a modern approach to the implementation of an epic plot: the authors transform it in order to achieve the versatility of the conflict and greater staginess, and make the spectators experience all emotions, empathizing with the characters of the production. Besides, the artistic canvas of the ballet seamlessly includes images of ancient Turkic mythology, and the performance is also steeped in reminiscences from the ancient Turkic cosmogony. The atmosphere of nomadic culture is outstandingly recreated on the stage, and especially there is a great representation of a wolf, which is one of the key images of ancient Turkic mythology.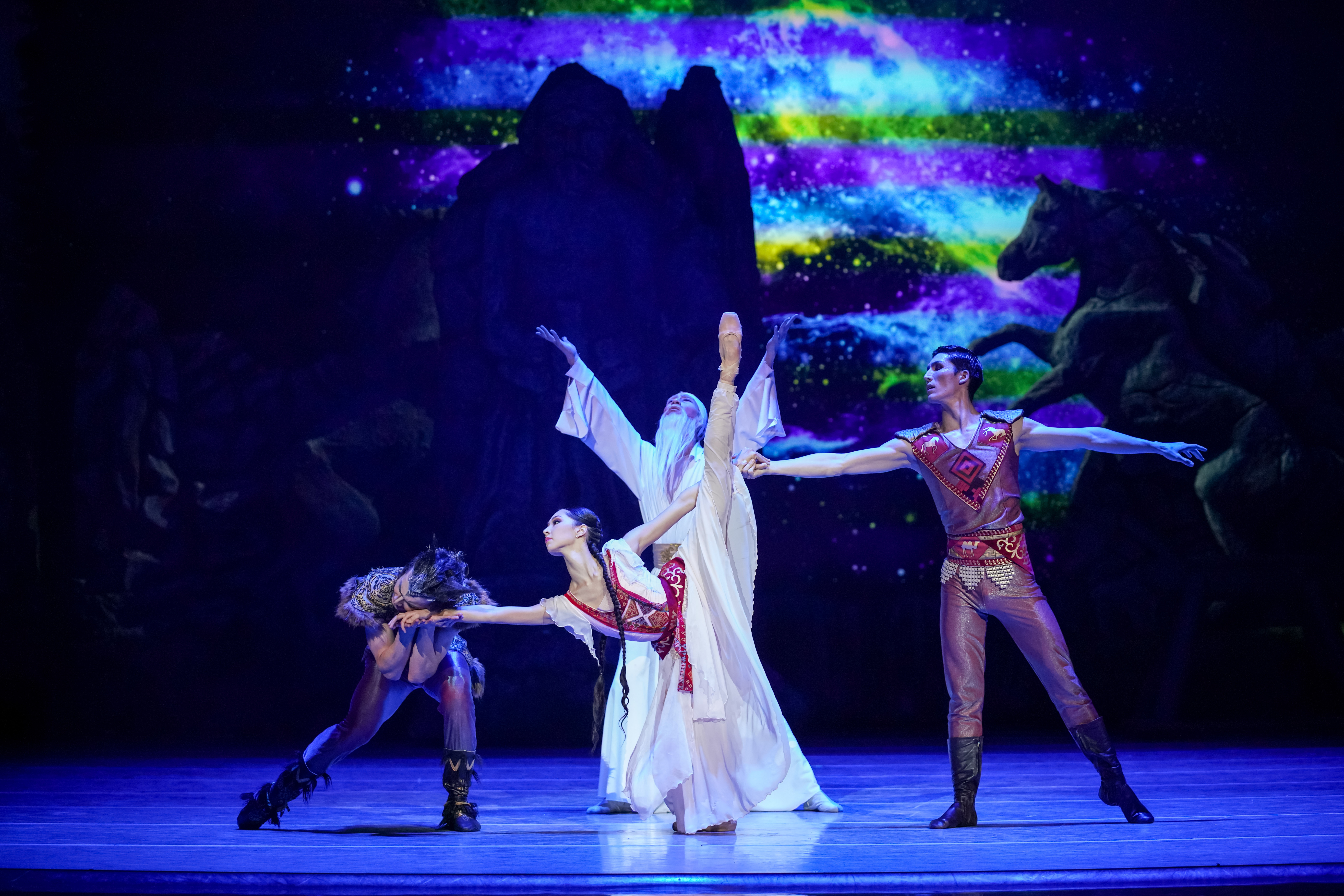 The combination of the best traditions of classical and modern ballet, unique movements of Kazakh folk dance, and strength elements allowed the director-choreographer Heorhii Kovtun to create an interesting and exciting choreographic language with a unique national atmosphere. It is also worth noting the sophisticated and rich scenography, unbelievably beautiful and bright costumes of the characters, fascinating scenery, and amazing lighting effects.
The "Kozy Korpesh – Bayan Sulu" ballet performance, according to the reviews of the audience, turned out to catch not only adult spectators' fancy, but also was to younger generation's taste, who responded with delight to all the most difficult support elements, high jumps, and artistic variations of the dancers - as it turned out, that ballet in a modern interpretation gained new bright and rich colours, giving the audience incredible emotions.
The events will be held with the assistance of the Ministry of Culture and Sports of the Republic of Kazakhstan.