SSE 3397.36
FTSE 100 7032.31
Dow Jones 34935.48
KASE 3 086,66
Brent 75.41
WTI 73.95
Золото 24 832.42
PTC 1 625.76
USD 424.44
RUB 5.81
EUR 504.91
CNY 65.72
Kazakhstan President holds talks with UN Secretary-General
5 июня 2021, 20:28

15888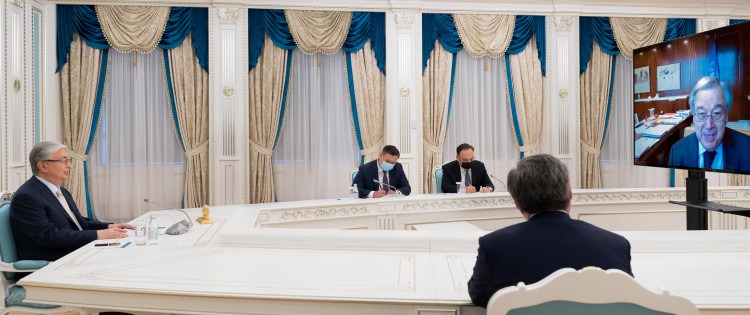 President Kassym-Jomart Tokayev held a virtual meeting with UN Secretary-General António Guterres to discuss priority areas of cooperation between Kazakhstan and the United Nations. They focused on the joint efforts to counteract the pandemic, tackle climate change, and ensure regional security and stability, Delovoy Kazakhstan reports.
President Tokayev confirmed Kazakhstan's support to António Guterres's candidacy to run for the second term as the UN Secretary-General.
The President and the UN Secretary-General discussed in detail the issues of ensuring regional security and stability in the context of Afghanistan. The Head of State expressed Kazakhstan's readiness to continue providing assistance to Afghanistan and to participate in international efforts aimed at restoring stability in this country. In this regard, António Guterres noted the exceptional role of the Central Asian states, including Kazakhstan in promoting this process.
Kassym-Jomart Tokayev informed the UN Secretary-General about the measures taken to counteract the coronavirus, including the development of the domestic QazVac vaccine, and plans to vaccinate up to 55% of the country's population by the end of 2021. António Guterres commended the development of Kazakhstan's anti-covid vaccine and the successful progress in mass vaccination campaign.
Secretary-General Guterres spoke positively about Kazakhstan's initiatives aimed at protecting the interests of LLDCs Group, which is of a great importance amid the crisis caused by the pandemic.
President Tokayev announced his intention to take part in 26th UN Climate Change Conference of the Parties (COP26) in Glasgow in the coming November, during which updated national measures to achieve carbon neutrality by 2060 will be presented.
António Guterres highly praised Kazakhstan's leadership in promoting the global anti-nuclear agenda. Kassym-Jomart Tokayev invited the UN Secretary-General to participate in an international conference dedicated to the 30th anniversary of the closure of the Semipalatinsk nuclear test site to be held in Kazakhstan in August 2021.
At the end of the online talks, the parties agreed to continue close contacts on a wide range of issues of mutual interest.
2006 - 2021 © Ваша почта. 16+